In chronological order, this shipwreck story has its genesis in Norway, when a timber built steamer slid down the ways in the chocolate box town, Tvedestrand, 1920, as, DS Bjornvik. Her name was changed the same year to Hill, and she operated in Scandinavian waters and the North Sea until 1940.
Cutting a lot of history short, not least the quality of Scandinavian timber vessels, this was when Germany invaded Norway and along with her Norwegian crew, this sturdy 500 ton steamer began tramping for the British Admiralty, delivering supplies and bunker fuel around the UK and Ireland.
The SS Hill gallantly fought off two air attacks and medals were awarded. She collided with another steamship while attached to a convoy in 1942, and was written off as a 'wreck', and described as, 'unrepairable' in 1943.
SS Hill's Victims. No. 2
Down, but not out. The story of the SS Hill's fate, if one can forgive the pun, resurfaced when the racing yacht, J-Outhaul, returning to Arklow from a weekend regatta in Carlingford, August 2023, came to a sudden and inexplicable stop in Brittas Bay. Although in a navigable depth of water, but maybe running a tad too inshore from blustery conditions, she struck hard on what had been earlier described as a 'submerged object', in 5-6 metres; and as her skipper, Brian Dempsey of the Arklow SC described, 'about 150 metres off the beach in Brittas Bay', in county Wicklow.
The crew were thrown forward and around the deck, suffering more from the shock, than the minor hurts of one kind and another.
Yacht J-Outhaul
Even though the yacht's deep fin-keel was badly damaged, it luckily remained intact, but nevertheless began taking in water. With constant pumping, the 26 ft yacht reached Arklow and reported striking 'an obstruction'.  As the general depth was adequate, two possibilities for the unexpected collision presented: a chartered wreck in the vicinity, possibly recorded inaccurately, or a rogue shipping container.
Returning to the WW2 steamer, SS Hill, and notwithstanding her latest graveyard classification, the director of a very recently formed Irish shipping company, Henry Patrick Lenaghan, who will be sometimes referred to respectfully as, H.P., purchased the condemned vessel and began repairs in Swansea (Reported to have been previously towed to Appledore, Devon.) during the latter half of 1943. After making the steamer seaworthy again, he employed five sailors from Dublin under the Devonshire captain, C.J. Storer, and accompanied them aboard the Hill in February 1944, from south Wales, on a journey for further repairs in Dublin. Ship repair facilities in Eire were sparse at the time, and the only other large repair yard in Cork, was in the process of being upgraded.
The voyage was soon interrupted due to bad weather, and they were forced to put in to Milford Haven. After waiting for the weather to improve, the ship and her Dublin crew set out again, but soon got into trouble with more bad weather. They were now further up into the Irish Sea and hadn't far to go before reaching Dublin.
The ship was knocked about by the reported 'north easterly gales with snow' and became leaky, and for whatever other reasons, made a run for shore.
She was beached, not the first time in her sailing career, coming to rest on the extended shallow sandy shoreline of Brittas Bay, a popular seaside holiday destination in county Wicklow, on February 27, where it was said she had 'broken her back'.
February in the British Isles has historically been a very bad month for seafarers, and that year was no different, continually dashing hopes for an early Allied invasion of France.
Wreck & Rescue
Other than what is speculated here; that the Hill may have continued to be covered by the War Risk insurance scheme while in search of a 'safe harbour' for repair; was privately insured; or was covered by the UK War Risks Club, nothing more is known. Equally, it is not clear if the Hill had or could obtain a 'Navicert' or 'Warrant' allowing it to trade for or into Ireland. Why it was necessary to sail a clapped out steamer to Eire for repairs, out of a country foremost in such expertise, at a time when Eire was struggling in the same industry, is a puzzle – but not the only one.
Notwithstanding, it is worth noting that, at the time of the Hill's loss, she was owned by an Irish registered company, Green Isle Shipping, with its two director owners, Mr & Mrs Lenaghan, residing in Ireland, and destined for trade from, to, and around Ireland, as per H.P. As such, she may even have been covered by the fledgling, Irish Shipping Ltd., who had begun to cover insurance risk on their Irish owned vessels at the time.
H.P. had offices in the centre of Dublin, acting as shipping agent. Securing and running vessels for various maritime entities. He was also known to manage various marine services for UK vessels landing in Dublin Dockyard, at a time when sensitive investigations between Eire and the UK were exploring the possibilities of; either Eire building its own ships, or Britain taking the orders. Ireland was also in a desperate want for shipbuilding materials at the time, and depended on the UK for permission to import these.
It was wartime, the political climate between the UK and Eire was highly charged with multiple prejudices and political acrimony, and little enough coverage appeared in newspapers to help expand this seemingly irrelevant wreck story of an obscure little ship, until a newspaper scan turned up an interesting little nugget containing three words – 'Irish Shipping Lines'. Who were they?
Flares were let off from the stranded steamer in Brittas Bay, the coastguard telephoned the Wicklow lifeboat, and without a hitch, the first motorised RNLI lifeboat, Lady Kylsant, was despatched post haste. After a flawless operation, they rescued all of those on board the stranded Hill. These consisted of the crew from Dublin, the Hill's Devonshire captain, C.J. Storer, and the ship's new owner, H.P. Lenaghan, who stated that his company, Green Isle Shipping, owned the stranded vessel. The company was incorrectly reported as being based in Arklow.
It is unfortunate that important details of the reporting in this instance were unable to be corroborated; the men from Ringsend – no names, and Captain Storer – unable to locate any certificate for him.  H.P. also stated that he had renamed her, the SS Dublin Bay, even though it never seems to have been officially registered as such, before or after the Hill went out of the registers in 1942.
The survivors, with no reported injuries, were put up at the Bridge Inn in Wicklow, as you do, and later transported to their homes in Dublin and Dalkey. But who lived where, and where did the 'Green Isle Shipping Company' emerge from?
Irish Shipping Company Ltd. (Eire 1941.) v Irish Shipping Lines Ltd. (H.P. Lenaghan 1949c)
Henry Patrick Lenaghan began his maritime career when he joined the merchant navy as a young trainee ship's engineer, and was discharged in 1928. He subsequently served on various other ships until 1934. Various spellings of his name proved difficult during research, but it is confirmed that he established the Green Isle Shipping Co., Ltd. in 1943. It had declared assets of £20,000, which may have been intended to represent the value of the Hill. Its two company directors, H.P. and his wife, Millicent, lived at, St Albans, Nerano Road, Dalkey, beginning in 1943. They were also reported to have a residence in Northern Ireland.
Although H.P. was already in business as a qualified marine engineer, UK (1931), Eire (1935), it would appear that this company was established to buy the Hill, and possibly to add to, or to begin another venture under that company's name. And apart from his main shipping company, Irish Bay Lines, this would in fact prove to be H.P.'s modus operandi going forward; purchasing and running vessels on a, 'one vessel one company' basis – the consummate 'middle man'.
A building that figured prominently in Irish History during the struggle for independence in 1916, H.P's business address, not appearing on the company's registration documents, was, 9 Lower O'Connell Street, Dublin, a few doors down from Irish Shipping Ltd. at the time, where business directories indicated: H.P. Lenaghan, Naval Architect, Consulting Engineer & Marine Surveyor was present. Mr Lenaghan did not remain in Dalkey for long, and it was known that he also 'lived' in Northern Ireland. His business address in O'Connell Street ended in 1949, as did any further mention of the Green Isle Shipping Co., in the Press anyway.
A Bed for Spies
According to the city directories, there were no registered tenants in St Albans, Dalkey, after 1940 and before H.P. was recorded in his company documents, as being domiciled there. It was a remarkable coincidence that the previous unrecorded tenant keeping the bed warm in St Albans, was in fact, the German officer spy, Herman Goertz. Along with a radio transmitter, Herman was holed up on Hill of Dalkey in 1941, his 'second home', his 'first' being nearby in Dun Laoghaire. After he was parachuted into Eire, he was hunted by various intelligence agencies, and couldn't be found by 'God nor man'. Seemingly having the good sense to hide in plain site; St Albans overlooked the home of the High Court Examiner, Thomas E.B. Adderley!
Between car excursions with his lady-friend sympathisers and tuning his radio attempting to contact Germany, he was also able to entertain key political movers and shakers during this period on the run. A rumour later emanated that, Goertz was under close surveillance, and was being given rope in order to see who he might hang with it.
So, H.P. stepped in, when Goertz stepped out, so to speak, and might have been pleasantly surprised when he discovered his new neighbour, Adderley, was also an Ulsterman.
And an even more startling coincidence: with the help of accomplices and admirers, Goertz had only recently attempted to 'escape' from Ireland by small boat from Brittas Bay, on two occasions, in the same place where the SS Hill was later beached, Jack's Hole, or thereabouts.
Goertz was eventually apprehended and confined to a military prison in Athlone for the duration of the war, but not without some further attempts at escape.
Goertz had operated as a spy in England before WW2 broke out, and later in Ireland during the war. After the conflict ended, Goertz was released, but summoned to Garda headquarters in 1947, where he was informed that, he was being deported back to Germany. It was an odd way to go, and many have speculated on his reasons for carrying a cyanide pill on him at that time. Nevertheless, he apparently committed suicide with it, on the spot.
The Nazi flag, Swastikas and 'Heil Hitlers', provided a controversial backdrop to Goertz's burial in Dean's Grange cemetery, and it was reported that, his wife later refused permission for his remains to be re interred in the German military cemetery at Glencree. Until after her death that was, and that is where he now resides.
His burial place is marked with a unique gravestone of some significance and symbolism. The graves and the large Celtic cross perched on high above the cemetery are all facing towards Germany.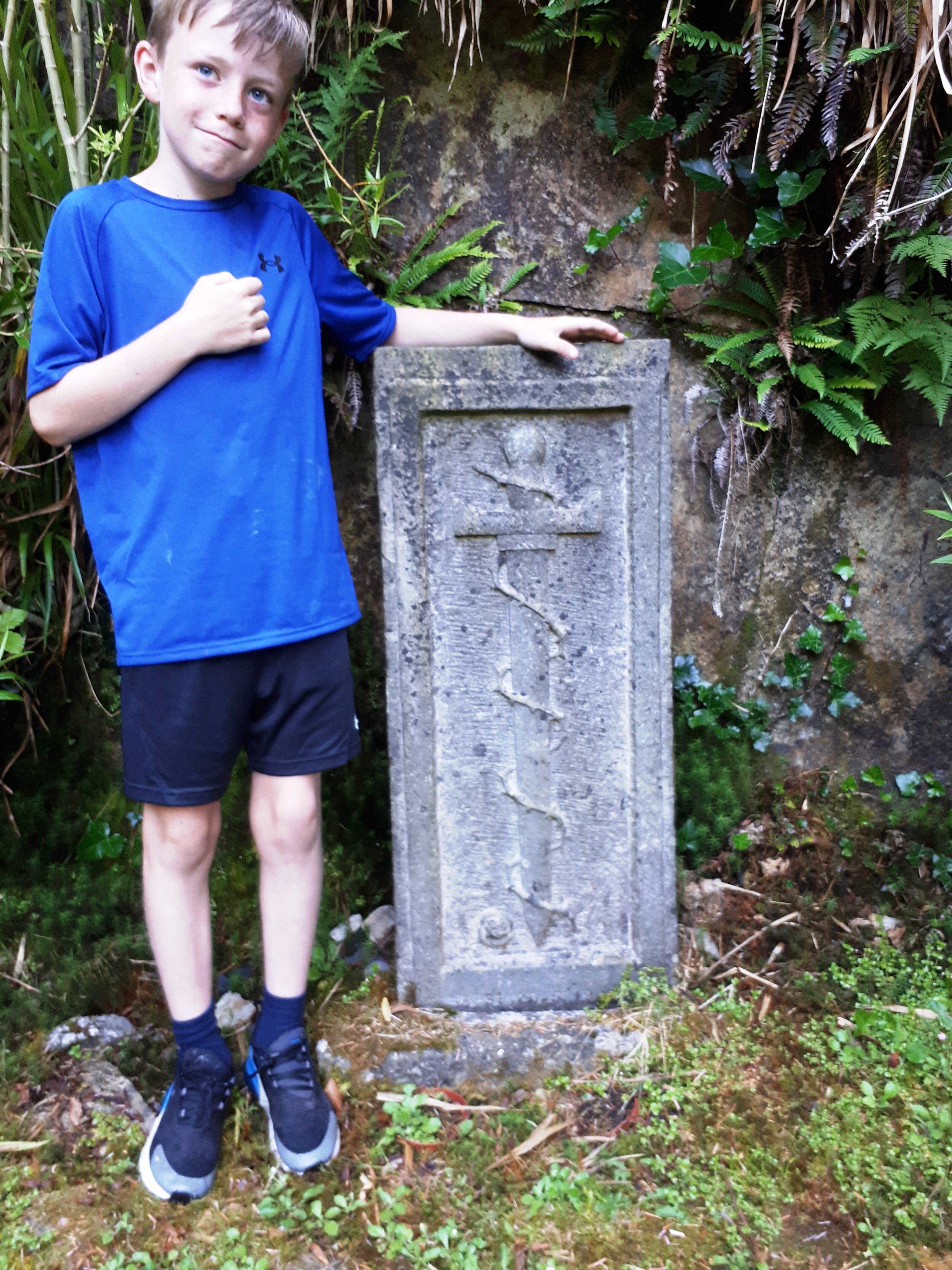 Author's grandson, Séan, at Herman Goertz's headstone in the German Military Cemetery, Glencree, county Wicklow.
Troubled Waters for Irish Ships
After Green Isle Shipping purchased the Norwegian steamer, Hill, presumably after its owners had been recompensed under the War Risk Insurance scheme, the company, or any mention of trading by it, failed to appear in the Press following the incident in Brittas Bay, and it was dissolved in 1965.
In the same year, 1949, O'Connell Street lost the good offices of H.P., and along came the obscure reference in the Press to another of his companies, Irish Shipping Lines. While Irish Shipping Ltd had struggled through the war, it's operations were sometimes lumped in with a number of other independent Irish shipping companies in the Press, and referred to as, 'Irish Shipping Lines'. Confusion ensued, as H.P. was the principal director of this company, its owner, the cross contamination lead to 'questions in the Dáil', and not the only time in the case of H.P.
Why, at that time, he settled on such a similar name, creating such unnecessary confusion, remains another puzzle?
Irish Shipping Ltd was established at a time, 1941, when Eire was virtually blockaded by Britain's insistence on navigational certificates and certified vessels. Almost impossible to secure, these were required before Irish vessels could enter Allied controlled ports and the war zone – Eire's home waters! This was plainly put at Irish Shipping's AGM in 1942, when its chairman, John Leydon, said.
"These warrants are issued as a wartime measure by the British Ministry of War Transport and are, in effect, licences without which it would be impossible to operate vessels…. It is now practically impossible to secure ships either through flag transfer or an unconditional ship warrant."
The politics of these restrictions were driven by a number of factors; the top of the list being Ireland's neutral stance, a topic that was highly charged. The de facto reality amounted to, 'we can allow you to get on with your 'neutrality', but on our terms.'
Even so, there were politicians, senior civil servants and hard headed businessmen on both sides, who could see the value in 'compromise'.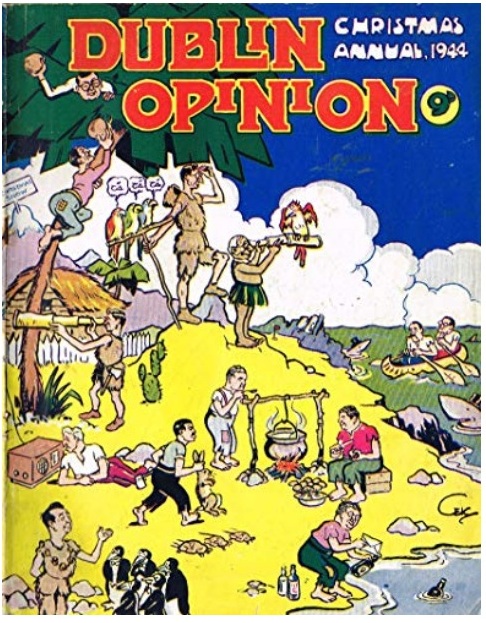 Cover of the 1944 edition of Dublin Opinion was a critique of Eire's politicians and its maritime isolation during WW2
With just a few ships at first, seized, second hand, wrecks, and sometimes war damaged, Irish Shipping Ltd. began to rename their acquisitions after 'trees', and performed a monumental task getting supplies into Ireland during this period. Notwithstanding herculean efforts, given the difficulties shipping exotic fruits, it was widely expected that, for a while, there would be 'no plum pudding for Xmas'.
Hill's Victims. No.1
H.P. was apparently still residing in St Albans, Dalkey, when this next part of the story unfolded back in the holiday paradise, Brittas Bay (Yes, even then.), the following year, 1945. The fishing boat Venturer, purchased into Arklow two years earlier, with a successful fishing legacy, was on her way to fish out of Howth on August 14, when she struck something beneath the surface in a thick fog and became impaled on a 'submerged object' – the wreck of the SS Hill. The old steamer had apparently been 'cut down' but not completely dispersed, prompting an assumption that, there must bits of 'Norwegian Wood' propping up huts and holiday homes all around Brittas Bay.
On this occasion though, there was one fatality, when a member of Venturer's crew, twenty nine year old, Patrick Lawlor, Abbey St., Arklow, drowned after trying to swim to the shore. There was no lifeboat rescue, as the remaining two survivors, Mathew Shelton, Abbey Street, and Richard Mills of Tinahask, got to shore on a makeshift raft with the help of an energetic student, Donald Cunningham, son of well known Dublin surgeon, who swam out from the shore to help them.
The following year, 1946, Irish lights were dispersing wrecks that had become navigational hazards around the coast, and hired the diver, J.E. Gibney to blow up the Hill, the Venturer, and the racing yacht, Nepenthe, that had been recently lost in a collision with Blue Trout in Dublin Bay.
The yacht that hardly needed 'blowing up', was a 'Dublin Bay twenty five footer', built in Dunleary in 1898. Her owner, Mr Purefoy, was a member of the Dublin Bay Sailing Club and was awarded £300 by the courts for her premature demise.
Hill's Victims. No.3 and No.4
(A Dive in Brittas Bay)
At first it was believed that the racing yacht had struck a container. But when its navigator and charts were consulted, it could easily be seen that the yacht had passed suspiciously close to a known charted wreck. The wreck was clearly shown, but there was no indication in the navigational bumph that it was a 'hazard to navigation.' We (Members of the Marlin SAC) had been out diving on the day we met crewmembers of the J-Outhall on our return to Arklow, who told us about their unusual collision, and we were hooked at once – we just had to have a look-see.
Research commenced immediately, and the contender, recorded by almost every maritime organisation so concerned, indicated that the likely culprit was either the, SS Dublin Bay, the SS Hill, or the Venturer, all tagged to the same wreck site!
The available online shipwreck data today is such that, the name of a contending shipwreck, photograph, and history, was being swapped amongst us on WhatsApp while homeward bound, before we reached Coyne's Cross. Nevertheless, the devil revels in detail, and the story had only just begun.
Notwithstanding the firm position already given for the collision, we examined the details of some other old wrecks recorded in the vicinity. Three of these were still showing well enough to prove of interest, but the strongest contender for the collision however, remained that of the charted, Hill.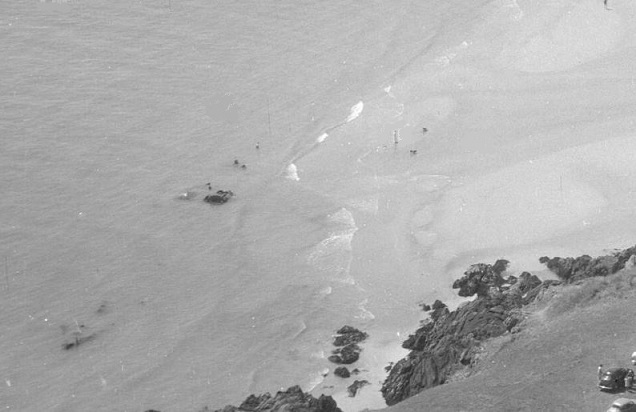 An aerial view of Porter's Point and remains of the nearby wreck of the SS Kestrel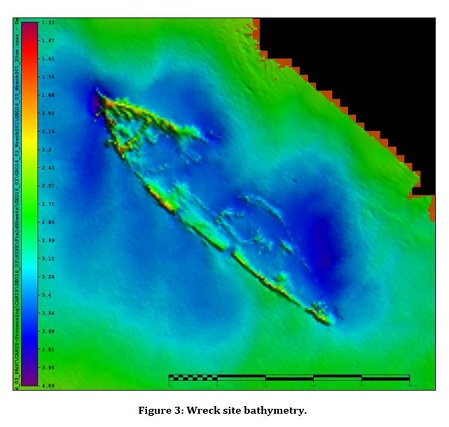 A sonar image of an 'Unknown' wreck by INFOMAR in shallow water, south end of Brittas Bay
A sonar seabed image of SS Hill by INFOMAR
 Images of Hill's machinery where the yacht struck, and of the Hill's propeller, by the 'well known diver'.
A sunny day, and after a doddle of a journey from Arklow, we were amongst the bathers at Brittas Bay. Usually miles out to sea, not a sinner in site, searching and grappling for new wrecks, it was strange to arrive at a wreck site in just a couple of metres, surrounded by bathers and adventurers on Lilos. So much so that, when two teenagers approached on a sit-on canoe and hollered; "Are you after our boat mister"? we were confused. They explained, that they had lost their small sailing boat in the area after it struck something under the water, and we explained; "No, were looking for an old WW2 shipwreck!" It was a bizarre moment.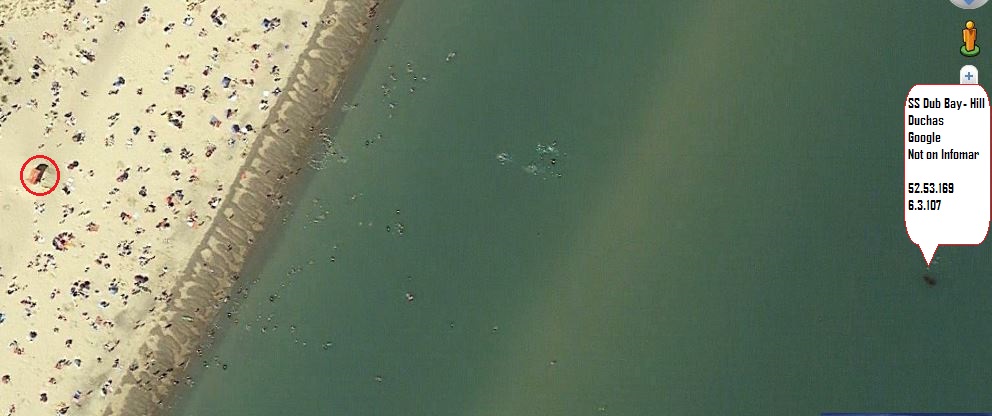 Thronged with seaside visitors – Brittas Bay and lifeguard hut, on a good day (Google Earth)
Anyway, the tidal disturbance in the surface water soon gave the position of the wreck away, and in we popped. What we discovered beneath proved surprising.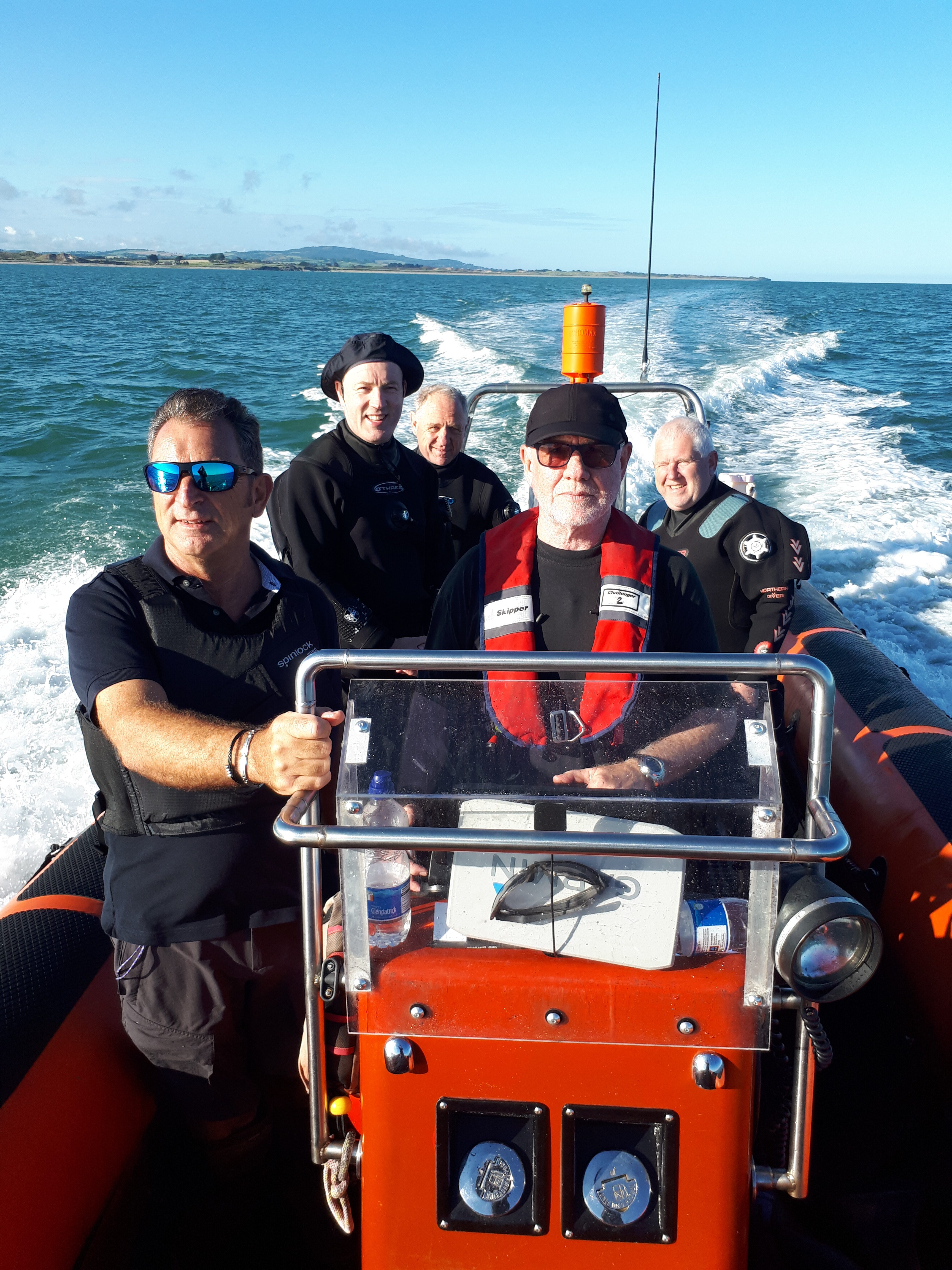 Members of the diving club Marlin on the day. Best looking kids(well, maybe not so kidish) on the block.
Shallow and all as it was, the visibility was poor and generally is along that coastline, due to the amount of sand that moves back and forward. Nevertheless, we identified most of the usual ship's machinery and fittings that can be seen on INFOMAR's marvellous image, stem to stern; engines, boilers and pipes, winches etc., including the long propeller shaft, and the propeller itself, which we managed to get a modest image of. The wreck lies well up on and almost perpendicular to the strand, which would seem to indicate that it was under way and did not drift into the shallows, with possible confirmation from the bent blade on its propeller. As for the offending 'submerged obstruction', this was clearly identifiable as the top of its large engine that once powered the Hill. And when sitting on the top of it, one could almost reach a hand up to the surface.
A home now for a nice cross section of marine life, it is a wonder that there have not been reports of more accidents with it. Remains of the hull's bottom timbers are still visible in places over its length but the engine and boiler clearly remain a danger, and I presume they'll have to blow it up again to prevent another déjà vu incident.
The Fruits of War
Born in Belfast, as was his brother H.P., James was a marine architect, who worked his way up through the world class shipbuilders of White Star fame, Workman Clarkes, in Belfast. He joined the Board of Trade and was seconded by the Admiralty during WW2. He moved around various high level roles within; Merchant Shipbuilding, Shipping Controller and the Admiralty, and travelled extensively. Shipbuilding and shipping transport was an enormously important portfolio during WW2, and these departments worked in close liaison at a very high level with similar ones in Allied and neutral countries, including Norway, whose commercial fleet was being virtually operated out of London by Nortraship, and its government in exile. Their operations, including the loss of ships and sailors, were unfortunately associated with derisive comments, such as, 'Profit before Patriotism', 'The Forgotten' or 'Phony War', etc.
When the war ended, James moved back in to civvy street, and became general manager of the reputable firm of shipbuilders and repairers, William Gray and Co., Ltd, West Hartlepool, the very same company that built and supplied Irish Shipping Ltd with a number of its new, off the ways, 'tree ships'. Repeating previous names, their early builds were, Irish Oak and Irish Willow in 1948. It was also the same company that built the Empire Newfoundland for the UK government, managed by his brother H.P. in 1946, who repatriated thousands of displaced emigrants from Suez to Europe, and on subsequent voyages under various shipping entities. ('Passenger Lists' are in the National Archives, Kew.)
Also operating as a sole independent trader, H.P.'s main shipping company though, was Irish Bay Lines Ltd, becoming '& Sons', based in, Lenaghan House, Donegal Street, Belfast. He was soon recognised as a very successful shipping magnate, and began a charmed life amongst 'the set'; his acquisitions, business ventures, race meetings, society functions all becoming grist to the media mill. 'Bay' was a constant theme in naming his numerous ships, and seemingly, he also had a sentimental fondness for places in southern and Northern Ireland.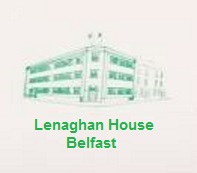 Image of 'Lenaghan House', Belfast. H.P.'s new office accommodation for Irish Bay Lines Ltd.
(Image from H.P.'s own in-house brochure, published 1950. Courtesy of the Maritime Museum, Greenwich.)
Carrying everything from emigrants to some cargoes apparently not to the USA's liking, along with selling rescued and refurbished ships to anyone with the price, H.P's. business flourished during the post war years. Amongst many others, H.P. seems to have established another company in 1948, named, Irish Tankers Ltd., in order to purchase a Scottish built tanker from a Norwegian company. She was named Dundrum Bay but later broke down and seized in Argentina. Never having 'made a penny' for its owner, it was reported that, H. P. Lenaghan of Irish Tankers ltd., couldn't be located at their registered business address in Belfast, 1967, after Irish Bay Lines became defunct.
H.P. operated across a global spectrum of shipping, towing and salvage, buying up a wide variety of ships, wrecks, and abandoned or seized commercial and naval vessels, as well as a number of tugs. Once owning one of the 'largest in the world', the Lenamill. After acquiring her, H.P. renamed the tug, with a name that appears to have represented a part combination of his father's name, Lenaghan, and his mother's, Miller.
As for his play with ship's names, when he purchased an ex minesweeper in 1960, he named it, Milhalen. If the spelling was correctly reported, it too possibly represented the same family connection or that of his wife, Millicent and himself? He sold and delivered it personally, from Liverpool to Waterford, and then on to Spain, as a fishing vessel.
His marriage; a Northern Ireland Catholic to Protestant, Millicent, his and his brother's professional careers, were unusually progressive for the time.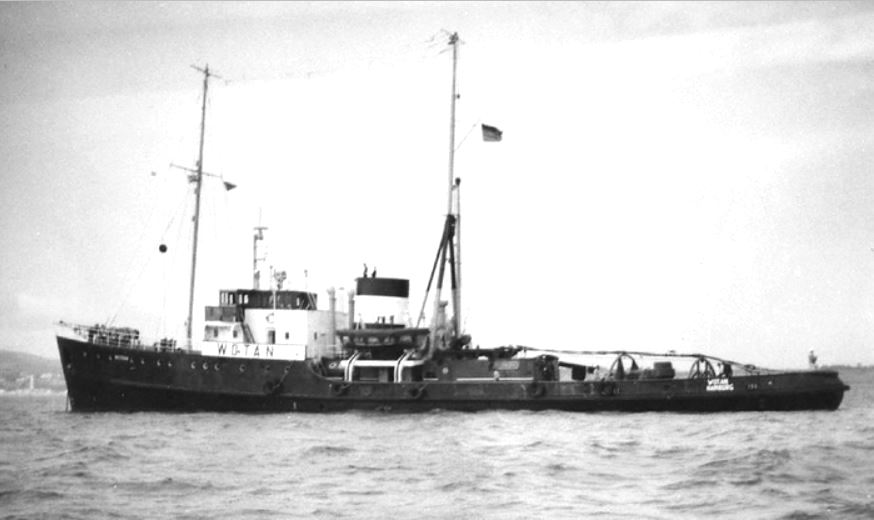 Built for the German navy during WW2 as Arngast, it was considered one of the largest and most modern tugs at the time. It was acquired by H. P. Lenaghan and renamed Lenamill after members of his family.
Acquiring the tug previously mentioned was some prize at the time. She was built in 1940 as the ultra modern and very powerful, Arngast, for the German navy, to tow around the likes of Bismark and Tirpitz. It was seized towards the end of the war, sold, and converted (Given the high status and advanced technological features of this tug, the conversion required would seem to have been minimal.) into H.P.'s private yacht, turning up at the odd regatta out of his sailing club in Donaghadee, where he was commodore. He worked it successfully in towing and salvage, but like most of Mr Lenaghan's business acquisitions, he soon sold it on, and she became Wotan. H.P. was also a keen sailor and liked to sail and compete with his Glen class, Glencoe, out of Donaghadee in the various regattas.
The Business of War
Riddled with names that would become 'household' throughout the USA and the rest of the world; Hoover, McCarthy, Kennedy(s), JF & RF, and Nixon, a Senate Committee was established to investigate their 'Special Relations', and some more pressing shipping relationships with the UK and others. Their findings were published in 'Senate Action on Hoover Commission Reports (Committee on Government Operations)', 1953. The Korean War was raging, and it had come to the notice of American Intelligence that, the UK was allowing British registered shipping companies to transport supplies to their adversaries, China and Russia, as well as transporting communist troops – a bit of a No No!
The Americans demanded explanation, and who could refuse them, especially then. The age old 'bad penny' with heads and tails of opposing philosophies – 'Communism v Democracy' was a hot topic then, and continues to turn up wherever Yang is missing Yin?
One of the many shipping companies included in the investigations, was the man and the company at the centre of our story, H. P. Lenaghan, Irish Bay Lines Ltd.
A Deplorable State of Affairs
Henry Patrick Lenaghan presents as a fascinating figure. He had a vast array of business interests. Race horses, prize livestock, farming, a collection of properties, was a ship broker, ship owner, salvage, company director of God knows how many singular shipping and marine related entities, and the more up front, Irish Bay Lines. His acquisitions began a meteoric journey before reaching what appears to have been a milestone in his career; the purchase of a large castle in county Waterford. H.P.
He travelled extensively throughout the world by plane and ship, sometimes on his own vessels, from Norway, possibly on behalf of the UK government, to Middle and Eastern Europe, the Middle East, Africa, North and South America and the U.S.A. The threads of his life were so varied and complex that it is impossible to encapsulate them all here.
A reported encounter with members of the Royal Ulster Constabulary in 1959 while parked with his Southern Ireland registered station wagon in Belfast docks, and his subsequent court appearance on an 'assault' charge, would suggest that H.P. was not a timid man, and someone really should write the best seller.
The 'assault' – H.P. was being ordered to move his parked car by an R.U.C. constable, as you do, while another stood in front of the car, at the same time, suffering some unclear injury when H.P. had trouble with his gear selection; or just a dent in the crease of the constable's pants as H.P. saw it.
A man hard to nail down, but that's exactly what HM Revenue attempted for four years after he was declared bankrupt in 1958. The Commissioners had investigated his vast complicated web of business interests; investments, properties, ships, everything down to an amphibious vehicle and a cine camera that lay undiscovered by them, but was offered up for accounting by the bold H.P., with what must have been, a certain 'tongue in cheek'.
Claiming that he and his mortified wife had nowhere to live and were selling the 'clothes on their backs', he was allowed some leeway to stay on in one of his properties, while discovery, litigation and taxing judgements continued until 1963. Out of total debts of £150,000, the IR's claim of £120,000 was considerably reduced to £30,000, and H.P.'s bankruptcy was 'annulled'.
H.P. had declared debtors in Eire, West Africa countries, Norway, Holland, Germany, Denmark, Italy, Portugal and USA, and even in the well known Onassis family. The complexity of the case, which continued for four years, was said by the judge, to have "…all flowed from the fact that Mr Lenaghan, as well as running a ship owning and managing business, also ran a similar business on his own…" and that, "…the assets of the company became confused with Lenaghan's own assets."
The judge was not impressed, and considered that it was a, "deplorable state of affairs", but granted leave for H.P.'s bankruptcy to be put aside in order for his creditors to be paid 12/6d, and then 17/6d in the £, for some. The zenith of H.P.'s marine empire was 1957, after which the bills began to pile up and it all ended up in the Northern Ireland courts.
A Peculiar Education at Strancally Castle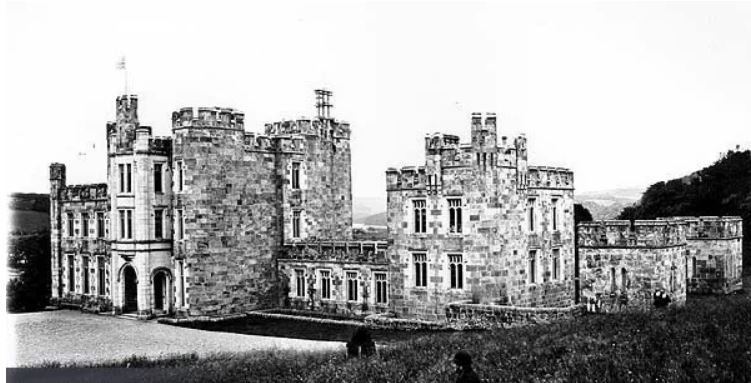 H.P Lenaghan purchased Strancally Castle from the Irish Land Commission in 1960.
Whether or not aspects of his bankruptcy judgement gave him some wriggle room, H.P was in the process of purchasing Strancally Castle in Waterford from the Land Commission of Ireland. The advertised sale was a closed bidding competition, and he 'moved in' in 1960.
The 'competition' was a quiet affair but not without competing interest for the magnificent castle, that remains in private ownership today. And whether or not H.P. ever intended to settle down in his new regal surroundings or not, the consummate middle-man only remained in it for a couple more years before selling it on.
When it was reported in 1963 that the estate was sold to 'Germans', represented in the flesh by one, Walter Greite, few asked; 'who are you'? Until, the Irish Independent revealed some facts after an interview with the new owners, which has enabled some further research.
Dr Walter Greite had been a doctor of biology with the Health Office of the Third Reich and became a senior government councillor. One of his academic fields of exploratory biology and zoology, referred to by some as, 'racial biology', was, determining the anthropological differences between Jews and Germans.
He and his family renovated the Castle into a boarding school for young students, not Irish ones, and named it Saint Marinus. It was his intention that they should study the English language and Irish culture in 'quiet surroundings'. Saint Marinus, a saint said to have been Irish, Croat, and Italian, became patron of the micro State, San Marino, the 'oldest republic in the world'. This enclave, with an undisputed claim of being a good friend of the USA, remains a fiercely defended 'tax haven' of long duration, landlocked as it is, between Italy and Bavaria.
In retrospect, Greite came to Ireland with a very interesting pedigree. It has been reported that he became a favoured member within the SS and the Nazi Party and had been educating privileged and elite boarding students that included members of the National Socialist or Nazi Party and Saal-Schutz or S.S., at Reichsschule Feldafing since 1933/4, on Lake Starnberger in Bavaria. Boasting of a visit by Eisenhower, it was closed to students, elite or otherwise, in 1945, and transferred to nearby Tutzing, and survived until 1978. It had also been a holiday camp for the Hitler Youth, but ironically, became a place to house displaced Jews, some of whom must have come from adjacent buildings, an extension of the Dachau concentration camp. It is now a museum come school run by the German military.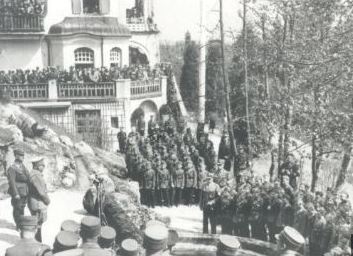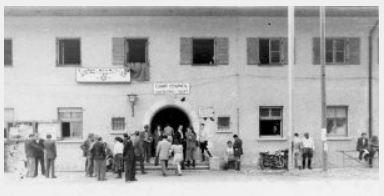 The Reich school at Feldafing before(Above) the end of WW2 and its camp buildings used as transitory accommodation for Jewish emigrants and prisoners afterwards (Internet)
Saint Marinus at Stancally, staffed by a curious mix of in-house teachers, took in young students for just a few years, and provided a curriculum of various academic subjects and outdoor activities. Walter returned to Germany with his wife Charlotte, presumably with their daughters, Held and Heike, who had been expected to attend University College Cork. News media also reported that their son, Jurgen, was studying to be a medical doctor.  Another son Henning, an accomplished artist, and his wife Utu, stayed on to develop intensive farming on the estate after the St. Marinus 'education' experiment ran out of steam. (Names are spelt as reported.)
Students came and left, and the school lasted just a few years before the Castle investment was sold again, following ongoing trouble with some local people. This spilled over when a fire, suspected to have been malicious, destroyed a cottage on the estate. Fishing rights on the Blackwater and 'absentee landlords' where in the news again. The Greites family successfully sued the State after a thorough investigation by the Special Branch of a suspected malicious attack, and high tailed it back to a quieter Germany.
It would appear that, the Greites had a love of learning and teaching, particularly, 'the great- outdoors'. Along came the Third Reich, extreme doctrine in formidable uniforms, and despite the enthusiastic fervour by many to get into one, it would seem that at some point, it became a little too tight fitting for Walter. His son, Henning, continued to return to Lismore for many years afterwards.
A Mysterious Ending
Not appearing at some of the later hearings, H.P.s debts continued their protracted unwinding until his bankruptcy was annulled in 1962. He had been 'in the thick of it' during an unprecedented period of global events, an extrordinary period of growth in the shipping and associated maritime industries; from before the beginning of WW2 until his bankruptcy procedure began. He was fifty six years of age and was absent from the media thereafter, with the exception of a brief foray in 1973, when he advertised the registration and recruitment of crew for a new shipping company with an old name, Irish Tankers (Ulster) Ltd.
The ships were already owned by Atlantic Research, in Bermuda with offices in New York, and were to be managed by H.P., who was out of the traps in old style, once again. Maybe it was not such a bad idea at the time, the world being in the throes of the perennial 'oil crises'. Transporting oil suffered bad press from some terrible accidents soon after, and however it continued for H.P., his name died from the limelight.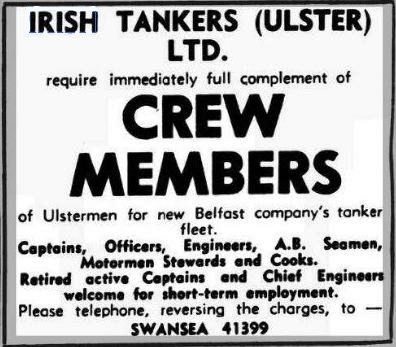 Despite no mention of his name, perhaps the last advert for a marine enterprise by H.P.Lenaghan.
Henry's and Millicent's deaths were private affairs. Respecting this, their basic details are as follows. Millicent, died in Yeovil U.K. 1996, and her remains were transported back to Northern Ireland and interred in the beautiful church and cemetery of Christ Church, in Strangford. She lies alone, and apart from brief details, and 'In loving memory…', no other family names or sentiment are inscribed on her gravestone.
Henry died in Tangmere, U.K. in 1991, and his ashes were transported back to Northern Ireland. He is apparently without a tombstone, as his remains were scattered at sea out of his old sailing ground, Donaghadee.
Unable to locate any biographical pieces on Millicent or Henry, it remains a terrible pity that such a giant in the maritime industry should have left this world with almost no public reference to his great accomplishments. He was involved in a wide range of maritime interests during a time of global conflict, upheaval, and millions of displaced persons in transit. He surely had some story to tell. It would be a very fine thing, if someone could pick up the threads of his life and write more about such a man and his time.
By Roy Stokes
Considerable thanks must be given to the following first class websites and their tireless work researching and recording data on shipping;
Lillesand Sjømannsforening, and Warsailors.com
Thanks also to John Peare and members of the diving club, Marlin, and the Arklow Sailing Club.
INFOMAR continues to supply world class seabed surveys and data, and is available to the general public.
And once again, to the diligent work by researcher and genealogist, Enda McMahon.
READERS PLEASE NOTE – No part of this post/article should be reproduced without author's or credits' sources permission.