Flowing through the heart of Dublin city, the south side of the river Anna Liffey between Merrion Square and Ringsend was largely undeveloped in 1792. This large area was swamp marshy ground but had been already divided into 'Lots' and earmarked for the expansion of the city. Previously esturinal, great walls were being built either side of the River, intending to contain and deepen it for buildings and shipping. By this time, construction was said to have been completed all along Rogerson's Quay, which stretched from opposite the new Custom House to the Hibernian Marine School and on as the South Wall to the river Dodder at Ringsend. However, there were still a number of places with sluices, slips, and no wall, with only wooden piles in places holding back the river, acting as a foundation for an embankment quayside with a cart track to Ringsend.
At a point near the Marine School for the education of young boys, predominantly Protestant, about half way along, the wall gave way during an 'uncommonly high tide'. A two hundred foot breach flooded the surrounding Lots, 'several hundred acres', up to the fashionable new Merrion Square, and eastwards to the building works on the new dock facilities at Grand Canal Basin at Ringsend.
Two large brigs that had been anchored in the River were swept through the breach and onto The South Lots. One was heavily laden with coal and became stranded near Merrion Square. As the general area was a desolate one, damage was seemingly confined to basements and stored goods and produce. The young boys, not long in the purpose built Marine School, after vacating their earlier seat of learning in the old inn, The Sign of the Merrion in Irishtown/Ringsend, had a narrow escape.
This marine nursery was kept afloat, if you will, by generous donations, such as those made annually by the Ouzel Galley Society. The area became known as 'Lovely Sound' and 'Lovely Lots' after the stranded vessel. Such a street name is not documented or remembered now, but close to Merrion Square at the junction of Grand Canal Quay and Grand Canal Street Lower there is a very old lane called 'Love Lane'.
It took some time to repair the breach and drain the land but not before the Duke of Leinster took a Sea Party on a hunting trip in the new lagoon.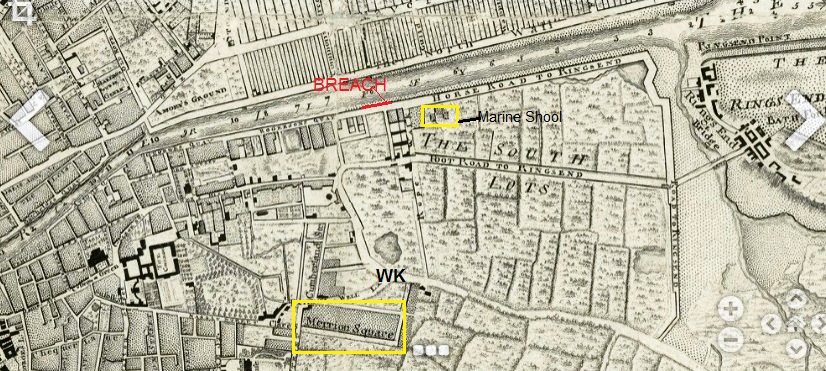 Usually followed by a female name, there was no ship registered as just 'Lovely' with Lloyds in the preceding years or for several more to follow. Neither were there any newspaper reports of a vessel by that name during the same period. With still no mention of a Lovely in Lloyd's Registers in 1801, newspaper reports did mention an armed privateer brig called the Lovely, seized off the coast of Ireland by the notable French privateer, Le Brave, commanded by Citizen S.Beek (Beck) and towed into Corunna.
The Lovely was heavily armed, but seemingly undermanned with a crew of twenty-four her fierce resistance was in vane. It was reported that her captain, and Englishman, and nine of her crew were killed.
When abandoned, wrecked or discarded vessels got in the way of development, they were either removed or just built upon as they lay in the bag-end of harbours. Consequently, during latter day redevelopment churn, shipwrecks are being exposed under city streets, parks and buildings around the world. Some were abandoned on site and others were washed inshore during freak weather events, thus demonstrating that water once flowed where man-made structures stand today. Recently, diviners have been pointing to structures and shipwrecks buried far inland!
Still magically drawn to the sea, and as adjacent land becomes ever more valuable, reclamation gathers at pace. Historically, mainly due to food & trade, travel & commerce, preference has been given to settling coastal areas. As coastal building and populations grew, more and more seashore has being reclaimed for development. This has meant that, estuaries, streams and rivers are being, to use that well known security phrase, 'kettled', which leaves no other place for large volumes of water to go, except – up! Alternatively it must demolish its restraints. This is not the result of climate change alone, it is a resulting effect of man challenging nature without understanding or disregarding the consequences.
Yes, catastrophic weather events, raining fishes and birds, hailstones that injured humans and animals, 'uncommon tides' that have lead to floods that washed away and disappeared whole villages have occurred many times before. This may be true, but it has become an inescapable fact – we haven't being helping matters. And scientists, well aware of these historical weather events can now argue that, although such events occurred in the past, these were isolated, but now they are trending for reasons not seen before. It might also be argued that, everything is trending, and it may just be that we are unable to see or judge the extent of the 'whole trend'. Like philosophers will say; 'there is no such thing as a short cut – it's just a cut'. Unlike a cut, sticking plasters will not suffice.
References:
Hibernian Marine School archives, Trinity College.
Wreck & Rescue by John De Courcy Ireland.
British Newspaper Archives.
irishwrecks.ie